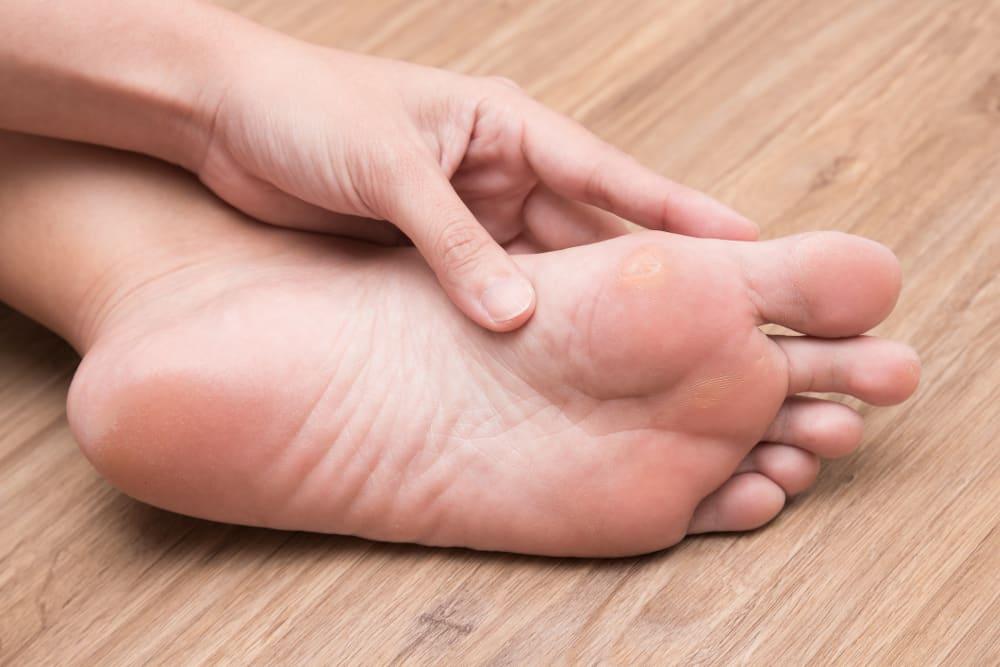 W gabinecie podologicznym odciski spotykane są bardzo często, a do ich powstawania przyczynia się m.in.: nadwaga, deformacje stóp, noszenie zbyt ciasnego i niedopasowanego obuwia, nieprawidłowości w biomechanice chodu, duża suchość skóry oraz brak jej elastyczności. Odciski najczęściej pojawiają się u osób aktywnych i starszych. Należy pamiętać, że dopóki będą występować czynniki sprzyjające ich powstawaniu to odciski będą nawracać.
Ból to nie wszystko
Odciski są efektem gromadzenia się zrogowaciałego naskórka w miejscu punktowego i długotrwałego ucisku lub tarcia naskórka. W początkowym etapie tworzenia się, odciski mogą nie dawać odczuć bólowych, jednakże im dłużej odcisk jest bagatelizowany tym bardziej narasta i może powodować dyskomfort. W bardzo zaawansowanym etapie, może doprowadzić do pojawienia się stanu zapalnego oraz wytworzenia treści ropnej.
Sposoby na walkę z odciskami
Aplikowanie preparatów dostępnych w drogeriach i aptekach na odciski może pogorszyć ich stan i wydłużyć proces leczenia.
Doświadczony podolog po przeprowadzonym wywiadzie i określeniu przyczyny powstania odcisku przeprowadzi zabieg oraz wyedukuje klienta jak zapobiegać szybkim nawrotom. Zabieg jest całkowicie bezbolesny. W miejscu po usunięciu odcisku zakładane jest odciążenie oraz preparat wspomagający regenerację skóry. Aby w szybki i bezpieczny sposób pozbyć się kłopotliwego problemu należy jak najszybciej umówić się na wizytę do podologa.